The highlight of 2013 was the creation of 2 new community collection sites in Gallup.  This was made possible through the efforts of New Mexico Recycling Coalition, Northwest New Mexico Regional Solid Waste Authority and in collaboration with McKinley Citizens' Recycling Council.  In 2013, the regional recycling facility in Thoreau, NM recycled approximately 313 tons of cardboard, 84 tons of mixed paper, and 21 tons of plastic.
Roberta Wolthers (volunteer); MCRC:  Millie Dunning, Gerald O'Hara, Shafiq Chaudhary, Patrick Moore (MC), Betsy Windisch, Leigh Tutterrow, Barbara Brandt, Mary Lee Fletcher, Sandy Young, Lynn Anner-Bolieu, Linda Popelish, Sandi Arentino (not pictured)
---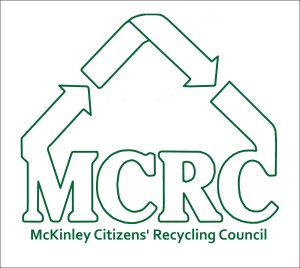 Here's What We Accomplished in 2013:
---
Hosted Earth Day event at Octavia Fellin Public Library

Published McKinley County Recycling Guide update
Published monthly Gallup Journey articles
Launched Recyclegallup.org website & Recycling Circle newsletter

Held volunteer training for staffing the collection bins

Met with city council members about the feasibility of curbside recycling

Toured Bio-PAPPEL, Thoreau Landfill, Friedman Recycling facilities

Staffed recycling tables at new teacher orientation for GMCS, Arts Crawl, Community Health event

Members attended trainings on Composting Certification & Recycling Education and Outreach, both through NMRC

Member attended monthly meetings with SWA director to coordinate recycling efforts

Hosted America Recycles Day/NM Recycling Month event

Applied for Continental Divide Electric Company co-share grant for a building to store recycling event materials; applied for Coca-Cola/Keep America Beautiful grant to get recycling bins for school recycling project (grants not awarded)
 On-Going Projects
---
MCRC could not have accomplished these projects without the generous help of the community!
We'd like to thank the following individuals:
Nate & Heather Haveman, Gallup Journey, for their contribution toward recycling bins for the post office recycling project

Billy Moore, NWMNRSWA director, donation for America Recycles Day event

Elizabeth Barriga, Water Conservation Coordinator, extensive revisions to McKinley County Recycling brochure

Adrian Marrufo, City Solid Waste, for printing our brochures and for his support of our projects

Yogash Kumar, City Councilor, for his on-going support 
---
Have an idea for a project?  We'd love to hear from you!
Use the Contact page or email recyclegallup@gmail.com
---
Recyclegallup.org Celebrates its 1st Anniversary!!
After 4 years with a barely functioning website, MCRC is proud to celebrate  Recyclegallup.org!  The website and Recycling Circle newsletter, would not be nearly so professional looking, nor would its creator be nearly as sane were it not for the efforts of John Rogers.  John has generously devoted many hours to helping both MCRC and Gallup Solar with all sorts of tech issues. John has extensive knowledge of everything from search engine optimization to website development -and he's a great teacher!  Check out his website:  WebSpeek.com
Red Rock Balloon Rally Photo
Courtesy of Bruce Schuurmann