Thanks to everyone who helped make our
America Recycles Day celebration a rip-roaring success!  
We had a great turnout despite the weather- over 200 community members brought in 85+ pounds of canned goods that were donated to the Jim Harlin Community Pantry.  STOMP! The Rehoboth Christian High School Wood & PVC Pipe Band was amazing (they played using flip-flops )!!  Check out their performance on You Tube.  Two Gallup businesses were recognized for their recycling efforts: Angela's Cafe & All City Recycling.  There were a record number of non-profits and vendors this year, who helped create a fun & interesting event!  
Recycling is going strong in Gallup, NM!!
____________________________________________________________________
 Have a Green Holiday!
More garbage is produced during December than any other month of the year.  Look for ways to avoid creating garbage.  Practice "pre-cycling" by taking recycling and reuse into consideration when you buy gifts this year.
GIFTS
Give homemade gifts.

Give of your time & talent (babysitting, house cleaning, organizing the closets).

Give entertainment (movie/symphony/game tickets, gift certificates).

Give health (a massage; a punch card for yoga, Zumba or other fitness class).

Give an alternative gift (see below).

Purchase gifts from local vendors.

Buy durable products made from recycled materials.
CARDS,  PARTIES, WRAPPING & TREES
Send holiday greetings via e-cards or buy cards made from recycled paper.

For holiday parties, use reusable glass or plastic ware and cloth napkins.

Rather than wrapping gifts for the youngsters, hide the presents, and turn Christmas into a treasure hunt.

Create you own recyclable wrapping paper by using the Sunday comics, magazines and wrapping paper recovered from previous events.

Consider alternatives to a cut tree- a live tree or decorated houseplant.
AFTER THE HOLIDAYS-  RECYCLE!!
Wrapping paper (no foil & ribbons)- put in mixed paper bin; unless it can be used again.

Corrugated cardboard (3-layers with inner wavy layer)- cardboard bin.  Unfortunately, since the Community Pantry closed its recycling operation, there is no place to recycle paper board (the thinner, pressed cardboard packaging around most toys and small appliances).

Foam packing peanuts- UPS store on Route 66.

Air packaging (deflated);  plastic around electronics & toys ( both #4 plastics)- put in plastic bag drop-off at grocery store.

Electronics- Gallup Transfer Station.

Old cell phones- Radio Shack, Gallup Transfer Station.

Light strands-Home Depot Eco Lights Trade-In.

Christmas trees (non-flocked)- drop off at Ford Canyon & LBM Rec Center; come back to get free mulch!
_________________________________________________________________
Give a Meaningful Gift this Holiday!

Take a break from the commercialization of the holidays.
Build community.
Give a gift that will do good!
Save natural resources by foregoing a material gift in favor of a donation to a charitable organization in honor of your loved one.
Talk to family and friends and decide together to give to a cause that is meaningful to each of you.  There are hundreds of organizations doing charitable work in areas such as alleviation of hunger & poverty, animal rights, sustainable farming, empowering women, education of youth, micro loans, and many others.

 These organizations will send a beautiful card to your honoree explaining how they will use the donation.  You can opt for an e-card for maximum resource-free giving. 
Go to Giving Alternatives and search from hundreds of charitable organizations based on their specific focus.  Visit Charity Navigator to see what percent of your donation goes toward program costs and administration costs; see their accountability rating.
Local Alternative Giving Options
Habitat for Humanity- Building quality housing for Gallup residents
Care 66- Working to end homelessness in McKinley County
Rez Refuge-Creating positive experiences for the youth of Ft. Defiance, AZ
Black Hat Humane Society- Finding forever homes for Rez dogs
Little Sisters of the Poor- Caring for Gallup's elderly with dignity & respect
Big Brothers Big Sisters- Mentoring to help children reach their full potential
The Jim Harlin Community Pantry-Eradicating hunger in our community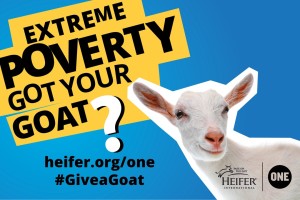 National/International Alternative Giving Options 
Mercy Corps' Philippines Typhoon Response-Food, water & shelter for survivors
Women for Women International: Education and business assistance for women
Heifer International: Animal husbandry, empowering women, sustainable agriculture
Seva: American Indian wellness and global Sight Initiatives
Feeding America: Hunger-relief across the United States
Kiva: Domestic and international micro loans
Wishing you a holiday of Enough-
love, peace, blessings!
Red Rock Balloon Rally Photo
Courtesy of Bruce Schuurmann